Take a look around at these sport related sites


There is alot of baseball "out there" check-out these sites. If you have a site you want put on this page e-mail it to me at cobbpd1106@juno.com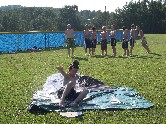 Sliding practice can be fun...just look at Will "BIG NASTY" Petrea.
Search Engines
AltaVista You know us as the Internet's original search engine.
Lycos One of the most visited hubs on the Internet reaching one out of every two web users.
Yahoo! With over half a million sites divided into more than 25,000 categories, Yahoo! is both browseable and searchable.
InfoSeek GO Network is a new brand that brings together the very best of the Internet in one, easy to use place.
Favorite Sites
College World Series
Keep up to date with college baseball
Mt. Paran Sports-Baseball
Mt. Paran Home Page
Texas Longhorns Sport Page
The Home of the Texas Longhorns
Cobb County Police
Cobb County Police
Baseball Quotes
Inside look at baseball thoughts
Field of dreams
Best Baseball Movie Ever Made, and a Great Web Site
The Gentry Law Firm
Look here for all your legal needs
www.anybaseball.com
Site Dedicated to Baseball, lotsof it.